Hello All!
I have a new mini tutorial for you today! I sat down yesterday and decided to play with the newly released Tim Holtz Sizzix Faceted Heart. It's one of his new dies that when folded and adhered together creates a 3D jeweled type heart with a flat back that can be adhered to any number of projects.
I chose to make two of them and adhere them together to create a steampunk type locket. The inspiration came from all the lovely projects that so many talented designers shared  at Creativation last weekend, and prior to that, created for the Sizzix Chapter 1 Sneak Peek. The examples were amazing and I had to give the Feceted Heart a go.
Here is a look at the FABULOUS samples from the Facebook Live.
You can check out more of the details of the Chapter 1 Release by clicking HERE.
and here is a look at the die…
The die comes with 2 different sizes of hearts…for this tutorial I used the smaller size.
I started out by cutting 2 of the small hearts from a piece of copper metallic paper from the Paper Stash Metallic 2 Kraft pad. Then I folded the scored areas of the heart. I used my nails to give the scores a more crisp fold, but you could also use a bone folder. Then I adhered it together with Distress Collage Medium.
My first attempt at the top folds of the heart were not very sharp, so as I glued the heart together I pinched the top fronts to get them more defined.
Here is a photo of the first attempt. This is the same heart as above.
..so the heart can have either shape, but for the locket I really wanted it defined.
After the hearts were folded and adhered together, I began rubbing the edges with my Gathered Twigs Distress Crayon and added one of the new Hardware Heads to the the front to create a "Keyhole". This was dabbed with a bit of picket fence and rubbed with a bit of Mushroom AI, then after it was glued on, I ran my crayon over top of it.
To create the "locket" top , I used an Idea-ology Wire Pins.
 I sandwiched the pin in-between the two hearts and used Collage Medium to adhere the two hearts and pin together.
I distressed a Small Adornment Key with Picket Fence and Broken China Distress Paint, and some Mushroom Alcohol Ink. Then I attached it with a piece of vintage old chain.
With that, my locket was complete! I'm not sure quite yet what project this is going on, but as soon as I create it, I'll share it with you.
Thanks so much for stopping by and have a wonderful evening!
Creatively yours,
Stacy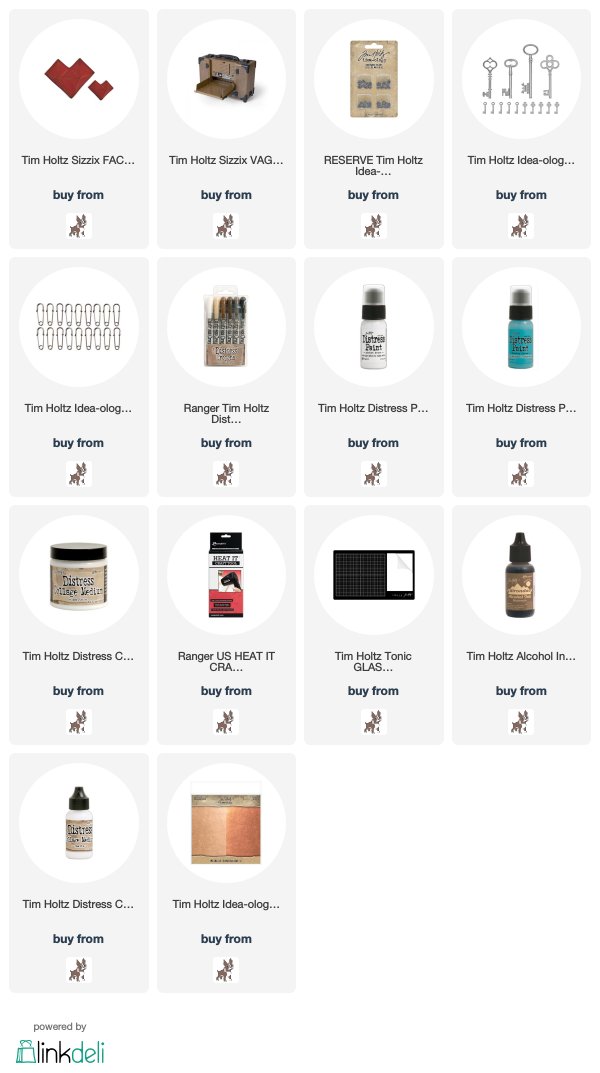 What is an affiliate program, and why should I click on the link and buy through you?..
When you shop via the affiliate link on this blog, I receive a small commission, from the affiliate provider (Simon Says Stamp), at no extra cost to you whatsoever. These commissions help me to cover hosting fees and other costs to run my blog and be able to provide you with FREE inspiration. If you shop the links, THANK YOU! I truly appreciate being able to share my love of creating with you.
Gather your supplies-
Tim Holtz/Sizzix- Faceted Heart Die Set
Tim Holtz/ Ranger- Collage Matte Medium, Gathered Twigs Distress Crayon, Mushroom Alcohol Ink, Picket Fence and Broken China Distress Paint
Tim Holtz/Idea-ology- Paper Stash Metallic 2, Hardware Heads, Wire Pins, Adornments Keys (small)
Other- Vintage Chain