Hello All!
I'm back today with a Mini Tutorial for a vintage inspired Tim Holtz Idea-ology Salvaged Snowman. I am also posting another tutorial today that includes the little guy, but if I had added all the info on him to that tutorial, I thought it may be too long. 🙂
So, he's going to be in the spotlight and get his very own tutorial.
I was so happy when I saw that Tim was bringing out snowmen this year, I go weak in the knees for them!
Here he is all painted and grunged up before my Glitter Duster had arrived.
 After Tim Demoed the Glitter Duster with a snowman the other day on Facebook Live. I was inspired to try making a vintage one for myself. I couldn't believe how easy it was to paint. The key is to have a very fine paint brush, a selection of Distress Paints and to let the paint dry in-between colors. To get the vintage look, I used one of my favorite things, Mushroom Alcohol Ink along with a Walnut Stain Distress Crayon. Then, I finished him with some Clear Rock Candy Glitter in my Glitter Duster. It is so AWESOME and gives exactly the right amount of glitter without clumps and a giant mess.
You can check out the Glitter Duster video HERE.
So lets get to making one!
I started by painting his hat, buttons and eyes with Black Soot Distress Paint. (No worries if you get outside of the lines a little bit. He's supposed to be vintage and when you scrape him up with a nail file you can take care of that.)
(Note: in-between all the layers, I dried with my heat tool.)
I painted his mittens and earmuffs with Candied Apple. (Note: You'll notice in the finished photos of him that his red is a bit darker on his mittens…I added some additional paint with Festive Berries Distress Paint)
Next was his broom with Ground Expresso, Fossilized Amber and Picket Fence.
His carrot nose with Spiced Marmalade and a tiny bit of Ground Expresso.
Then, some Peeled Paint and Grond Expresso for his scarf.
Then, I got brave and painted some holly onto the side of his hat… because dapper vintage snowmen always sport holly on their hats! Although it may look tricky, I can assure you that it wasn't… Just some tiny dabs and squiggles of Peeled Paint, Ground Expresso and Festive Berries with a tiny paint brush!
Then, with a nail file I scratched him up a bit and added Mushroom Alcohol Ink and Walnut Stain Distress Crayon…after my Glitter Duster arrived, I dabbed on some Glossy Accents with a paint brush and dusted him with Clear Rock Candy Glitter.
…And here he is in the little vignette that I made just for him. Be sure to pop over and check out that tutorial too!
Thank you so much for looking and have a GREAT day!
Creatively Yours,
Stacy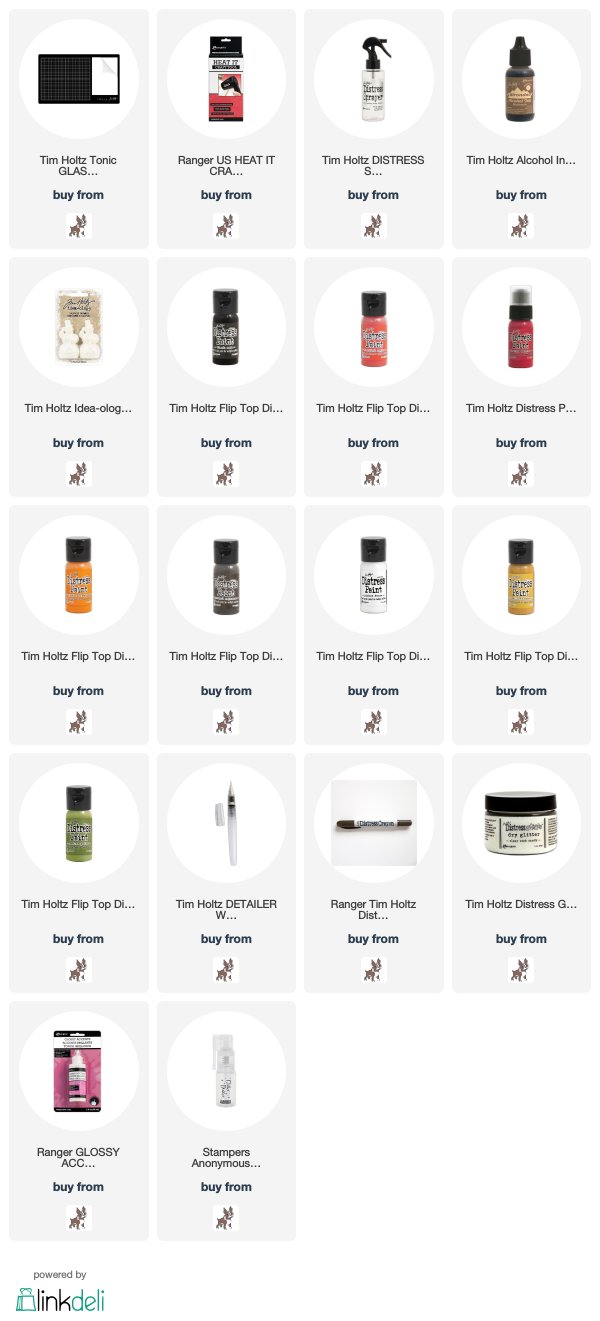 What is an affiliate program, and why should I click on the link and buy through you?..
When you shop via the affiliate link on this blog, I receive a small commission, from the affiliate provider (Simon Says Stamp), at no extra cost to you whatsoever. These commissions help me to cover hosting fees and other costs to run my blog and be able to provide you with FREE inspiration. If you shop the links, THANK YOU! I truly appreciate being able to share my love of creating with you.
GATHER YOUR SUPPLIES-
Tim Holtz/Ranger- Distress Paints in a Variety of Colors, Mushroom Alcohol Ink, Walnut Stain Distress Crayon, Clear Rock Candy Glitter, Glossy Accents
Tim Holtz/ Idea-ology- Salvaged Snowmen
Tim Holtz/Stampers Anonymous- Glitter Duster
Other- Fine Paint Brush, Nail File