Hello all and welcome! I hope that you are well…as some of you know, we moved a couple months ago so I have been busy unpacking and rearranging my little nest, which has been a bit tattered lately.. who knew that moving your creative space could be so time consuming. It's been a lot or work and my creative spark has been a bit on the fritz. But luckily, some tiny sparks have been happening from time to time and with any luck, I'll be making on a more regular basis soon, so, I apologize for my blog and tutorial absence.
As for today, I am back with a tutorial for a project that I created for the Tim Holtz Sizzix Chapter 1 release. This little project features a tiny nest that was created using the new Funky Nature Thinlet set…
You may have figured out that I have a thing for nests 😉 so when I saw this set, I instantly knew that a tiny tattered nest project was in my future. I mean, come on, a die set with some eggs and a feather? I just couldn't resist. The "nest" was created using a few Funky Wreathes that I cut from some inky background papers that were in my stash. All the other funky bits were cut from more of my inky scraps and backgrounds.
So, without further adieu, let's get to the making…
My project started with a background paper that I had in my stash..I make backgrounds like crazy in between projects and this is one of those backgrounds. It was created by blending various distress inks and stamping very randomly with the Baroque Stamp Set (CMS400). The stamp was loaded with various blue distress inks, spritzed with water and stamped onto the paper. Then I picked up drips that were left on my craft mat and dried the paper with my heat tool. The paper was then cut to fit a Mini Etcetera Tag, then stitched around the outside edge with my sewing machine.
I cut out several Funky Wreathes using the set then stacked them together to create a fuller "nest"and began cutting out various pieces from the Funky Nature set and began arranging the pieces.
Before adhering the background paper to a mini Etcetera tag, I arranged several of the wreathes, adhered them together with some tiny foam tabs then stitched the wreath to the front of the tag. By doing this, it created a more realistic fullness to the wreath and helped to create a 3D area to build the nest.
You can get a better look at the area I created in this photo.
I applied a couple foam tabs on the very back of the wreath then stitched to the right and left side by catching a couple of the pieces of the wreath with my stitches.
I then adhered the background paper to the Mini Etcetera tag and began building my nest. I placed some inky scraps of mummy cloth and a couple eggs in and began arranging some of the funky nature pieces.
I added more pieces from the Nature set and added a couple sticks…you knew I had to! 😉
One of my found sticks ran along the left side of the arrangement, the other, larger one, became the shelf. I whittled a bit of the shelf stick off to create a well for the other stick to sit in. Then all the pieces were applied to the tag with distress collage medium and set aside to dry.
I stamped the "collect" image from the Field Notes Stamp Set (CMS396), colored and inked it with Distress inks, then adhered it along with a couple grungy old pearl buttons for good measure.
I then tied some jute to the top of the tag and with that, my vignette was complete.
Thank you so very much for stopping by today,
I hope you enjoyed the tutorial.
Creatively yours,
Stacy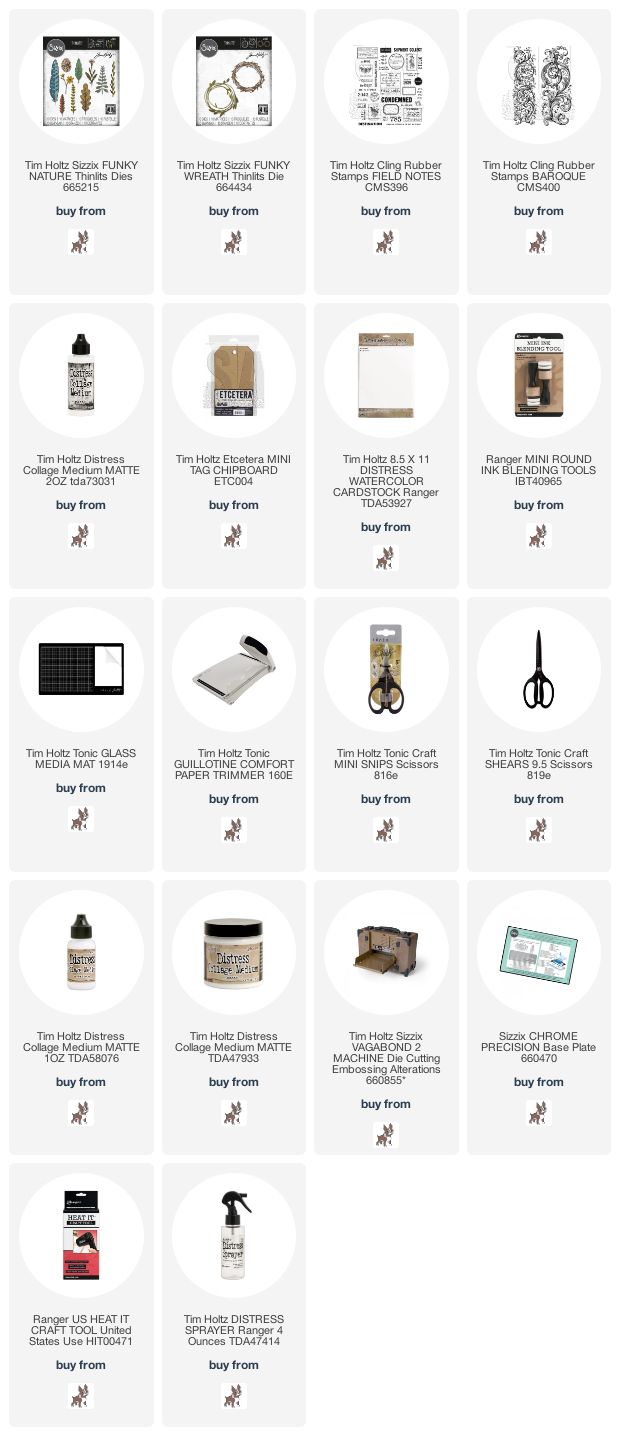 Recipe for this project…
Distress Watercolor paper, Distress Inks and sprays in a variety of colors, Tim Holtz Sizzix Funky Nature Thinlet Set, Funky Wreathes Thinlet Set, Tim Holtz Stampers Anonymous Field Notes Stamp Set (CMS396), Baroque Stamp Set (CMS400), idea-ology Mummy Cloth, Stampers Anonymous Mini Etcetera Tag, old fabric, buttons, jute and sticks from my stash.
What is an affiliate program, and why should I click on the link and buy through you?
When you shop via the affiliate link (linkdeli) on this blog, I receive a small commission from the affiliate provider (Simon Says Stamp & Scrapbook.com) at no extra cost to you, whatsoever. These commissions help me to cover the hosting fees and other costs to run my blog and be able to provide you with FREE inspiration. If you shop the links, THANK YOU! I truly appreciate being able to share my love of creating with you.