Happy Assemblage Week! Have you been following along on instagram and all the beautiful inspiration provided by Tim, Paula, and Suzy? Tim has been sharing them in his insta-stories. If you haven't, be sure to Click Here and follow along. There are so many ways to use assemblage to create jewelry, or use it to embellish mixed media or card making projects. The possibilities are pretty endless… Tim Holtz assemblage is a jewelry line that is sold exclusively at Joann Fabrics. Click Here to take a peek at all the vintage inspired goodies.
Today, I am sharing a necklace that I created using a few of these products…
Is this not the cutest? I am completely in love with the assemblage Trinket Box Locket and the gray beaded and silver chains go so well with it.
Confessions… I've had a little bit of an obsession lately, anything distressed in navy blue, grey, brown, cream and white or said combo of that…whether it's home decor, vintage knick-knacks, clothing, for whatever reason, it's been my jam and this necklace was totally inspired by it.
Here's the list of assemblage pieces and tools that I used to make it…
Smoke Iridescent Beaded Chain #THA20092, Ash Grey Beaded Chain #THA20090, Small Gunmetal Link Chain #THA20081, Rectangle Trinket Box Locket #THA20070, Pearl Sunburst Links #THA20145, and Book & Key Locket and Charm #THA20121, Silver Twisted Oval Chain #THA20169 (not pictured) plus, some jump rings, and a set of needle nose pliers to open the beaded chains and links.
The necklace…
To start, I separated 2 lengths off the Ash Grey Beaded Chain, making each piece 5 beads long. Next, I found the center of the Gun Metal Ink Chain, cut the center link in half to remove it, and attached the Ash Grey to both ends.
I separated off a section of 10 ovals off of the Silver Twisted Oval Chain, then attached it to the two Ash Grey beaded portions, this became the bottom portion of the necklace where the charm was connected.
At the bottom of this photo you will see a center loop that connects the ovals together, I used this area to attach the Trinket Locket and Link.
I separated a portion of the Smoke Iridescent beaded chain (a section of 18 beads) then, using my pliers, attached it to the loop portion of the chain.
The links and trinket locket…
I attached the tiny key to the bottom of one of the Silver Pearl Sunburst Links and then using a jump ring, attached it to one of the oval loops.
Here's a peek at the placement of the key and link.
I lightly painted the inside of the locket so that the it had some "tooth" to hold the adhesive and little vignette inside.
On a scrap piece of idea-ology backdrops paper, I blended a bit of Weathered Wood Distress ink. I then inked up the Vines and Roses Background Stamp (CMS298) with Faded Jeans Distress Ink, spritzed it with a bit of water, then stamped it onto the ink blended area and dried it with my heat tool.
I found a tiny photo in the idea-ology snippets ephemera pack and trimmed it down to fit within the locket. I stitched a tiny piece of denim and mummy cloth to the background paper, then trimmed it to fit in the locket.
Using my sewing machine, I stitched a tiny piece of denim and mummy cloth to the background paper, and found the words, "gentle hearts" in the idea-ology clippings sticker book.
I trimmed a piece of chipboard to fit within the locket and give the vignette a little lift from the back of the locket.
Then the edges of the chipboard, photo and words were rubbed with Walnut Stain Distress Ink.
The vignette background was then trimmed to fit, and all the pieces adhered within the locket.
I attached the large Silver Pearl Sunburst link to the top of the locket using a jump ring, then attached it to the necklace.
Then, I attached one of the small Ash Grey beads to the toggle of the locket.
Now, some of you with a really good eye may notice that the metal around the edge of the frame has a bit of a blue tint…this was because after I had my necklace complete, I decided that maybe I should paint the trinket locket with a bit of Chipped Sapphire Distress Paint. I did, then decided it was a bit much, so I sanded some of it off with fine grit sand paper..then, it was one of those "ah ha moments" because that is exactly what it needed, just a tiny hint of chippy, rubbed off blue paint. You can really see it in the photo below 😉
With that, my necklace was complete…
Thanks so much for stopping by today and be sure to visit Tim, Paula and Suzy for more assemblage inspiration.
Have a great day!
Creatively yours,
Stacy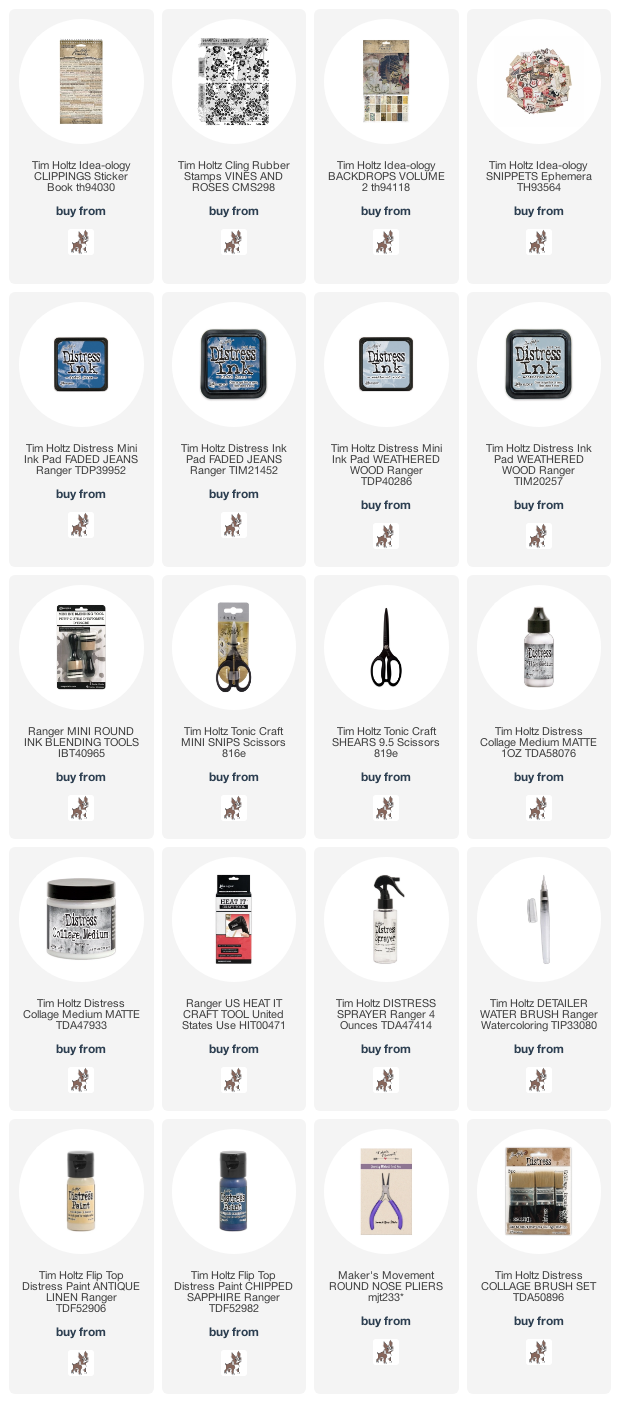 Supplies other than assemblage used to create this make- idea-ology Backdrops 2, Snippets Ephemera Pack, Distress ink and paint, Vines and Roses background stamp set CMS298
What is an affiliate program, and why should I click on the link and buy through you?
When you shop via the affiliate link (linkdeli) on this blog, I receive a small commission from the affiliate provider (Simon Says Stamp & Scrapbook.com) at no extra cost to you, whatsoever. These commissions help me to cover the hosting fees and other costs to run my blog and be able to provide you with FREE inspiration. If you shop the links, THANK YOU! I truly appreciate being able to share my love of creating with you.