Hello all and welcome!
I'm back today with another tutorial that I'm sharing over on the Sizzix Blog for a card created using the new Alphanumeric Classic Upper, Deck The Halls and Pine Branch thinlet sets…
To get to the tutorial on their blog, please click on the link below.
You'll see that I've used the sewing technique that I shared the other day and that the card is embellished with a bow.
 As a little bonus, I'm sharing a tutorial on how I create the bows that I make and use on my cards and projects.
Here are a couple more examples of the bows in use…
As you know, I love vintage junk…and some of the junk that I collect are old Christmas corsages, pin cushions and crocheted sachets. Most of the time these items are embellished with ribbon, the ribbons on them have become crushed, stained and crinkled over time… which makes them all the lovelier. That is always the look that I try to achieve with the ribbons on my projects…
Originally to create the bows I was using idea-ology Crinkle Ribbon, which I LOVED, but sadly it was discontinued from the line. I researched and found that other designers were using "Hug Snug"  seam binding in place of the crinkle ribbon. I found it online at Zipperstop.com The color I use is Chalk White and it's sold by the 100 yd. roll. for only $10.50! A great deal if you ask me. 🙂
It takes the distress inks and sprays perfectly. This process is NOT permanent, but it's perfect for mixed media projects that aren't going to get wet or be around dampness or moisture.
To create the ribbon I like to use the Distress Spray Stains, both regular and oxide.
This particular combo was Shabby Shutters, Forest Moss & Peeled Paint Distress Sprays along with Peeled Paint Oxide Spray and Tarnished Brass Mica Spray. I sprayed the white ribbon with water, then added the colors, and dried between the layers of color with my heat tool.
When I'm drying it I crush the ribbon to give it the crinkled and wrinkled look.
This is what I like to call a cheater bow… 😉
I simply gather the ribbon together to create 2 or 3 loops on either side (where my thumb and fingers are holding it) and leave a good length on the ends.
Then I cut an additional piece of ribbon and tie it in the middle (where my thumb and finger were holding it) to create the bow.
 then I rearrange the ends…
To get the bow to keep a crinkled look I add a tiny bit of Distress Collage Matte Medium to my finger and roll the ribbon tails between my fingers. This helps to keep the crinkle in the ribbon and really give it that vintage worn look.
I then use that same technique on the loops of the bow
…and here's the finished ribbon, all set and ready to adhere to another project!
I hope you enjoyed this little bonus tutorial and be sure to head over to the Sizzix Blog to check out the details of the card. Thanks so much for stopping by…have a great day!
Creatively yours,
Stacy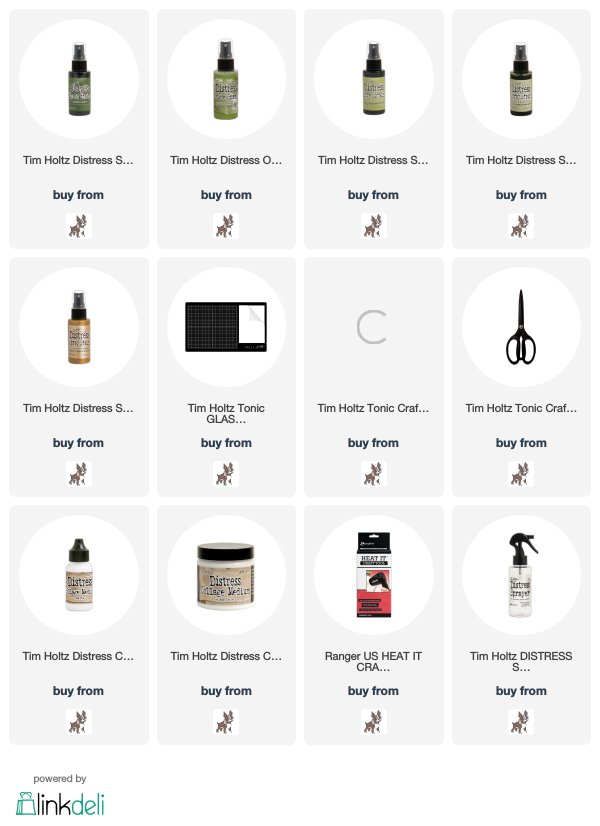 What is an affiliate program, and why should I click on the link and buy through you?
When you shop via the affiliate link on this blog, I receive a small commission, from the affiliate provider (Simon Says Stamp), at no extra cost to you whatsoever. These commissions help me to cover hosting fees and other costs to run my blog and be able to provide you with FREE inspiration. If you shop the links, THANK YOU! I truly appreciate being able to share my love of creating with you.
Gather Your Supplies-
Tim Holtz/Ranger-
 Distress Spray Stains- Shabby Shutters, Peeled Paint, Forest Moss, Tarnished Brass Mica
Distress Oxide Spray Stains- Peeled Paint
Distress Tools/Mediums- Distress Sprayer, Media Mat, Heat it Heat Tool, Distress Collage Matte Medium